Close Obsession
by
Anna Zaires
My rating:
4 of 5 stars
These series...
The seriously are turning out to be my love!
I have never felt love for alien romances but lemme tell you ladies.. If Krinar was real.. I'd be gone gone gone
Best fictional planet ever!
All the intelligence of machines and technology was absolutely brilliant!
And as far as the romance part goes..
Well..
Mia and Korum's story progresses.. She discovers more and more about the K and seems to be loving it all.
Her relationship with Korum at some points was strained but ohhhhhhhh finally
the confession
*wink wink * happens, leaving me a very happy reader.
I am in love with Korum more and more!
While at some hidden corner, trouble keeps brewing...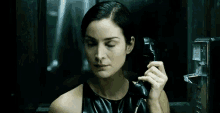 View all my reviews