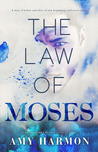 The Law of Moses
by
Amy Harmon
My rating:
5 of 5 stars
"Did you ever love me? "
5++++ RIP MY HEART OUT STARS!!!!!
OH..
MY..
GOD!
When this book started, I braced myself for some Sweet Gum Tree kinda pain and all...but boy oh boy, this book made me cry so damn much! I MEAN WAY TOO MUCH!
Moses and Georgia!!! ❤
I'll admit I loved Georgia's character INSTANTLY and it really made me sad they way she transformed after Eli's accident. Made me hurt for her. Moses.. Oh he was an easy person to fall in love with but he was one hard man! Lots of tears!
The ending of the book almost made me give up on life but THANK GOD AND THANK YOU AMY HARMON FOR THAT HEART RIPPINGLY BEAUTIFUL EPILOGUE!!!!
View all my reviews