Hard Wood
by
Jenika Snow
My rating:
4 of 5 stars
*NetGalley ARC*
Well hey!
So glad JS is working with some people who have NetGalley ARCs yayyy!!
So here we have the Ash brothers and this time..
We have..
Noah!
I liked chopping wood, slinging it over my shoulder and hauling it to where it needed to go.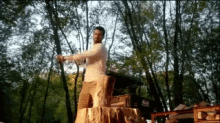 Haaaaa...
A strong guy!
And then we have our Jenika Snow romabewall filled with alpha goodness and heroine who is loved and claimed by a man who'll cherish her forever.
We get a little bit of staying away at the beginning but well the guy has had enough.
Time for action!
View all my reviews